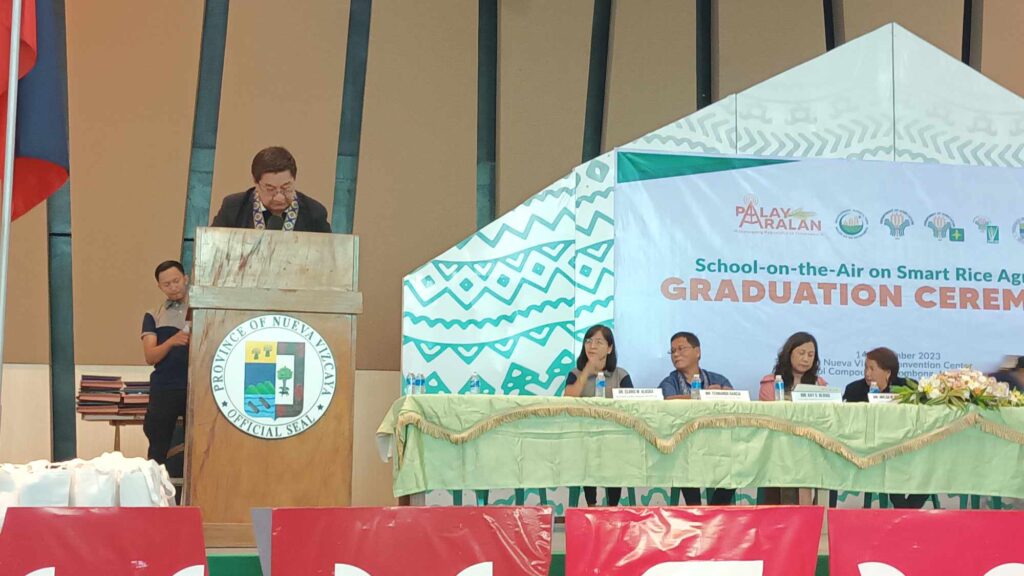 The Provincial Government of Nueva Vizcaya (PGNV), through the Provincial Agricultural Office (PAO) led by Mr. Absalom Rizal D. Baysa, celebrated the achievements of local farmers at a graduation ceremony held on November 14, 2023, at the Nueva Vizcaya Convention Center, Provincial Capitol. This event marked the completion of the School-on-the-air on Smart Rice Agriculture (SOA-SRA) program, a collaboration with the Department of Agriculture Agricultural Training Institute Regional Training Center 02 (DA-ATI-RTC 02).
The SOA-SRA is an innovative program designed to enhance farming techniques and boost agricultural productivity. By utilizing a school-on-the-air format, it brings crucial knowledge and skills to farmers in a convenient and accessible way. The impact of this program is significant, leading to an increase in farmers' understanding and implementation of improved rice farming techniques, and boosting overall agricultural productivity in the region.
The graduation ceremony was a testament to the success of the program and the hard work of the farmers involved. Throughout the course of the SOA-SRA, the farmers gained a deep understanding of smart rice agriculture practices and learned to apply new technologies to their farming methods. These skills and knowledge will not only benefit the farmers themselves but will also contribute to the overall development and prosperity of the agricultural sector in Nueva Vizcaya.
Under the guidance of the PAO, farmers immersed themselves in a curriculum that not only enriched their knowledge but also empowered them to implement sustainable practices.
In his message, Governor Atty. Jose V. Gambito commended the 1,873 farmer-completers for successfully completing the program. He emphasized that they should master innovative farming techniques and embrace the latest technologies. He said that they are now armed with enhanced capabilities, therefore they should be catalysts for positive change in the community for a prosperous and sustainable future of Nueva Vizcaya's agriculture.
The Provincial Government of Nueva Vizcaya, through initiatives like the SOA-SRA, continues to invest in the growth and development of its agricultural sector, recognizing the vital role it plays in the economy and livelihood of its residents. The success of the SOA-SRA program underscores the value of innovative, accessible education in empowering farmers and enhancing agricultural productivity. #mvs