The Department of Trade and Industry (DTI), in partnership with the U.S. Agency for International Development (USAID), the Provincial Local Government of Nueva Vizcaya, and the Nueva Vizcaya Agricultural Terminal (NVAT) Inc., launched the NVAT Fresh Online platform on August 31, 2023, at the Nueva Vizcaya Convention Center.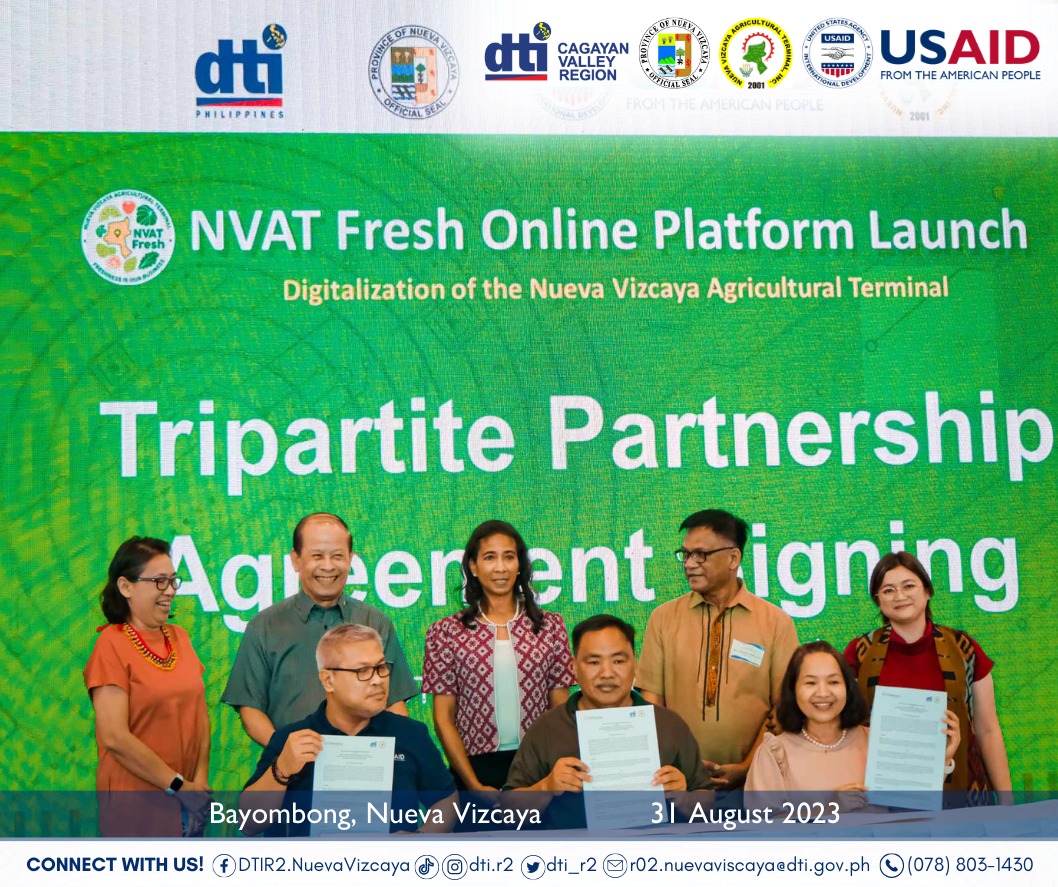 The NVAT Fresh Online Platform, a cloud-based business-to-business (B2B) e-commerce marketplace, has been designed to streamline transactions within the NVAT to facilitate market access and expand economic opportunities for Vizcayano farmers. The online platform equips farmers and traders from NVAT with direct links to buyers, decreasing food wastage, fostering stable incomes, and providing affordable prices to consumers.
This significant leap in the agricultural supply chain landscape is the fruit of a collaborative effort between the DTI and USAID under the Strengthening Private Enterprises for the Digital Economy (SPEED) Program. A tripartite partnership agreement, signed during the launch, solidifies the commitment of all parties involved, emphasizing the collective approach taken to transform agricultural trade.
In May 2023, a workshop was conducted to help engage local stakeholders to gain insight into their needs and challenges which served as the bedrock for the development of a stakeholder-driven digital business model tailored to NVAT.
To ensure a seamless transition to the digital platform, SPEED provided comprehensive training to NVAT employees, equipping them with the skills required for effective e-commerce operations. Farmers and traders utilizing the platform also received essential capacity-building and onboarding support.
This innovative platform stands poised to reshape agricultural trade, fostering greater connectivity and efficiency for farmers, traders, and buyers alike.
This project eliminates intermediaries in the supply chain and closes the gaps between farmers and major supermarket chains such as AllDay Supermarket, which is the first client of NVAT to use the platform.
As part of the event, a mini bazaar called "Lako ti Vizcayano" featuring the participation of 25 local enterprises and farmers was also held. It aims to display the diverse range of local products ranging from fresh fruits and vegetables to processed foods, souvenirs, coffee and cacao, and handicrafts, among others. /cqc/
Fore more PGNV updates, follow us on our Facebook page: https://www.facebook.com/photo/?fbid=292389246864732&set=a.138970878873237