Delegates from Japan Council of Local Authorities for International Relations (J.CLAIR), headed by Mr. Asaki Shoichi, Japanese Dispatch Expert Specialist, paid a courtesy visit to the Provincial Government of Nueva Vizcaya (PGNV) Governor and Officials. Governor Carlos M. Padilla, Vice Governor Jose V. Gambito, Board Members Roland M. Carub and Eunice Galima-Gambol, and some Department Heads warmly welcomed the Japanese visitors on January 27, 2023 at the Conference Hall, Main Building, Provincial Capitol.
J.CLAIR is a government-affiliated general incorporated foundation established in 1988 to support the international activities of local government units to strengthen international collaboration, particularly around regional development and revitalization.
Generally, the specialist will provide technical assistance to the PGNV in developing a "Strategic Marketing and Development Plan" to all One Town, One Product (OTOP) of the province, as a strategy to increase the standards and marketability of locally made and produced products and further encourage products to aspire for good quality and better service delivery. He will also come up with a unique "Branding System" that will institutionalize and sustain the OTOP concept. He will also develop a "Seal of Excellence" that shall be included in the product packaging and/or marketing collaterals.
According to Ms. Juditte L. Asuncion, Provincial Cooperative Affairs Officer of the Provincial Cooperative and Enterprise Development (PROCEDE) Office, Nueva Vizcaya was chosen by J.CLAIR as one of the beneficiaries of its international cooperation specialist dispatch project.
"This project will entail meetings with our OTOP Hub Project Partners and other stakeholders, plant visits to OTOP Hub Manufacturers, Fabrication Laboratory, Processing Laboratories of the Academes, and Trainings of OTOP Hub stakeholders. With these interventions and assistance from J.CLAIR, we expect that we will be able come up with the following: Establish a systematic, coordinated, and sustained promotion and marketing of the OTOP products, improved image and/or brand of OTOP products, increased number of local entrepreneurs, and increased employment opportunities and income of local entrepreneurs", Asuncion disclosed.
Mr. Roel P. Dolaypan, PROCEDE Office's Project Development Officer IV, introduced Mr. Shoichi. According to him, Mr. Shoichi carries with him a wide spectrum of expertise in the fields of food industries including processing of agricultural produce, packaging and distribution of food items including agricultural produce, and commodification of local agricultural and fishery products.
Mr Shoichi applied his vast knowledge in various East Asian countries like Taiwan, Hong Kong, Mainland China, and in his own homeland. For almost two decades, he is an advocate of the popular One Village, One Product movement under the Oita Prefecture Agricultural and Fishery Industrial Technology Center and Agricultural Technology Center. Some of his major achievements include pushing for the export of Niitaka pears to east Asian countries under the Oita Brand Promotion Department, preservation of the freshness of fruits and vegetables for production and distribution over wide areas, and overseas export under the Oita Industrial Research Institute.
In his message, Governor Carlos M. Padilla said "I urge my fellow Vizcayanos to take advantage of the presence of our friends from Japan to be able to learn from them what they learned for 50 years which we will learn in a few days. I hope when they depart the Philippines, we will be able to implement what they have shared with us. Whatever experience and wisdom shared by them to us, it is us, the Vizcayanos and Filipinos who will work hard to be able to achieve what Japan has achieved". #mvs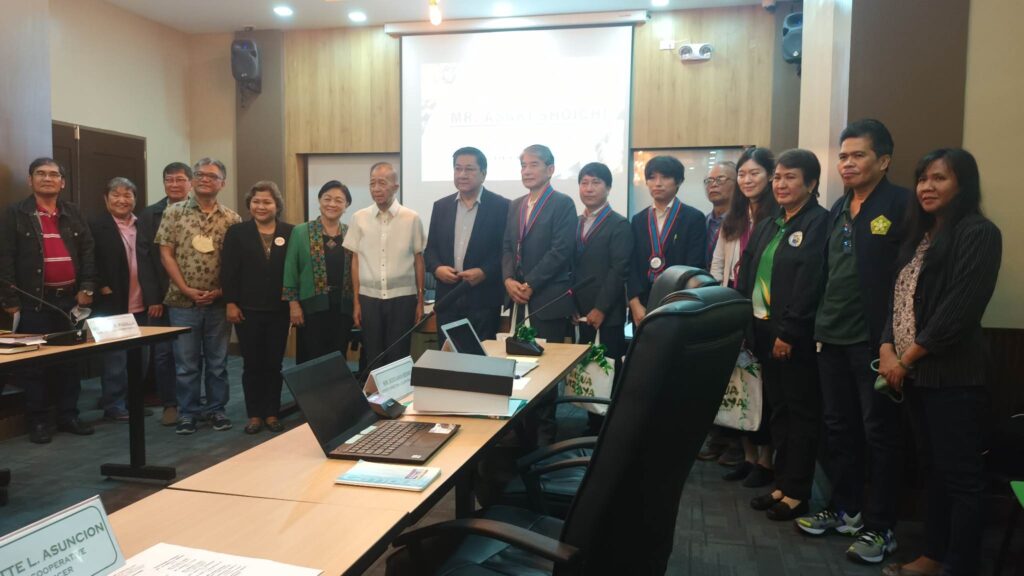 PGNV officials and different Department Heads welcome the J.CLAIR delegates during their courtesy visit on January 27, 2023 at the Conference Hall, Main Building, Provincial Capitol.