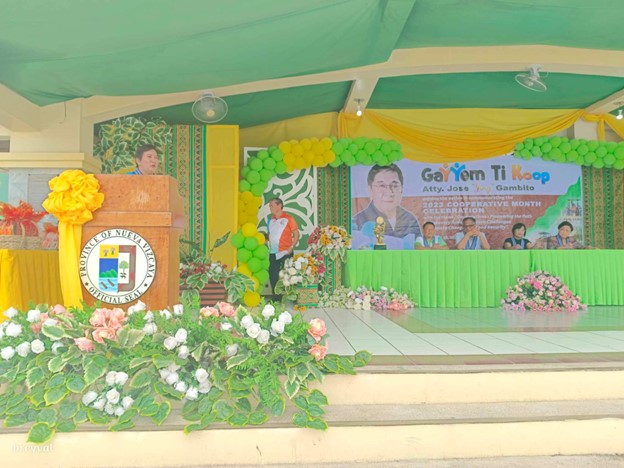 The province celebrated Cooperative Month with color and festivity on October 28, 2023 at the People's Stage, Provincial Capitol. Organized by the Provincial Cooperative and Enterprise Development (PROCEDE) Office in partnership with the Provincial Cooperative Development Council (PCDC), the celebration aimed to recognize and celebrate the resilience and contributions of cooperatives in the province, especially in the face of the challenges posed by the COVID-19 pandemic.
The day-long celebration was packed with various activities, showcasing the province's dedication to cooperative principles and the impact these principles have on the local economy.
The festivities kicked off with a colorful motorcade that showcased participants assembling at different points across the province, converging toward the Provincial Capitol Grounds.
The official program began with a solemn doxology and the singing of the National Anthem. Following this, cooperative members pledged their commitment to the cooperative movement.
A message of support from Hon. Roland Carub, Board Member and Chairman of the Committee on Trade, Industry, Commerce, and Cooperatives, was shared. Governor Jose V. Gambito had already expressed his full support to all cooperatives during the opening of the "Tiangge ti Kooperatiba" on October 23, 2023.
The opening remarks given by Ms. Juditte L. Asuncion, Provincial Cooperative Affairs Officer, set the tone for the day. Her message underlined the significance of cooperation in the face of adversity.
The guest speaker, Atty. Jovilyn Gaffud-Marquez, delivered a thought-provoking and inspirational message that resonated to all cooperative members.
The highlight of the event was the presentation of Cooperative Management Performance (CMP) Awards. These included the Search for the Most Innovative Processed Food Product and the Search for the Best Designed Booth. These awards recognized the entrepreneurial spirit and creativity of local cooperatives. Awards were presented to the deserving winners.
The celebration underscored the resilience of cooperatives in Nueva Vizcaya, particularly during the COVID-19 pandemic. These organizations proved their commitment to their communities by providing assistance and maintaining their businesses. The PROCEDE Office initiated the CMP Award to recognize the best of the best, emphasizing the strength of cooperation in overcoming adversity. The event aimed to provide a platform for MSMEs involved in food processing to promote their products, introduce alternative marketing options, and recognize the efforts and commitment of MSMEs in alleviating poverty in the region.
Nueva Vizcaya's Cooperative Month Celebration was a testament to the enduring power of cooperation and the vital role it plays in the local economy. It served as a reminder that unity, innovation, and community support can overcome even the most challenging of times, providing a source of inspiration for all those involved in the cooperative movement.
The celebration concluded with a heartfelt closing remarks, capping off a day filled with camaraderie and cooperation. #mvs