The Provincial Government of Nueva Vizcaya (PGNV) through the Provincial Information Technology Division (PITD) and Provincial Human Resource Management Office (PHRMO), and in collaboration with the Department of Information and Communications Technology (DICT), conducted a Google Workspace Webinar via Zoom platform for PGNV employees on October 13-14, 2022.
The training aims to improve the productivity of the PGNV offices by utilizing the Google Workspace tools like Google Drive, Gmail, Google Forms, Google Meet, Google Calendar, Google Docs, Google Slides, and Google Sheets.
Likewise, this training is pursuant to PITD's mandate in leading the advocacy of Information Technology (IT) and human resource development of government employees as well as other sectors.
DICT Regional Office's Training Specialist II, Engr. Nicholai Christopher B. Nora, and Systems Analyst I, John Wesley A. Tolentino, were the resource persons for the two-day training who presented actual demonstrations on the utilization and navigation of the different tools of Google Workspace platforms.
There were 68 PGNV participants from 21 offices who completed the training and were equipped to carry out the daily operations of their offices more effectively like preparation of reports and presentations, easier access on necessary data and informaion, smooth scheduling of different targeted activities, an effective way for collecting data and analysis, and better means for communication and coordination within or outside the offices.
As per PITD's consolidation of participants' responses in the Post-Training evaluation, the prevailing suggestion was for a face-to-face training to be conducted next time so that participants and resource speakers as well may have a more engaged participation and interaction.
In closing, Sherlyn B. Fernandez, Information Technology Officer II/PITD Chief, expressed her gratitude to the DICT for granting PGNV's request for the Google Workspace Webinar, and for lending the expertise of the two resource speakers. She also thanked all the participants for actively participating during the 2-day training. "I am expecting you to maximize the use of these tools as you are now part of what they call "the new digital workforce of the government", she added. #mvs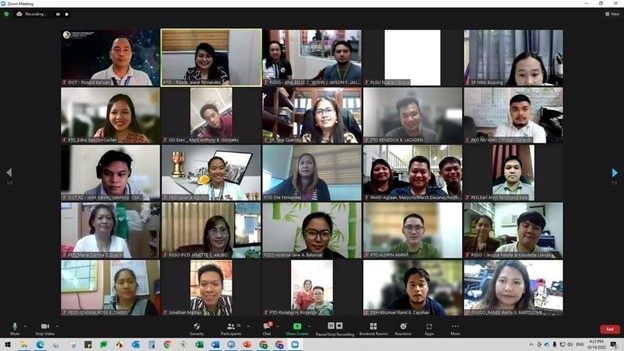 DICT personnel, PITD Chief and staff, and PGNV employees pose for a photo-op as the 2-day webinar concludes