The Provincial Government of Nueva Vizcaya (PGNV), through the Public Employment Services Division (GO-PESD) of the Governor's Office, conducted the Provincial Government Youth Employment-Bridging Program (PGYE-BP) payout on February 10, 2023 at the Ammungan Hall, Provincial Capitol.
Board Member (BM) Patricio F. Dumlao, Jr. and Acting PESD Manager Ms. Dolly Rose C. Minas led the awarding of cash to the 200 youth beneficiaries of the program composed of students and Out-of-School-Youth (OSY) who were hired by the PGNV during the 10-day Christmas Break. They were deployed in various PGNV offices and made to do some clerical work and other menial tasks, like encoding, sorting, filing of documents, and maintaining the cleanliness of the whole Provincial Capitol Compound. As programmed, each of the young workers received a maximum of P4,000.00 as compensation depending on the actual number of days rendered.
In his message, BM Dumlao emphasized that this program was created to aid in the implementation of the Special Program for Employment of Students (SPES) of the Department of Labor and Employment (DOLE) in collaboration with the PGNV. Further, it aims to accommodate those who were not included in the joint DOLE-PGNV Program.
"I call on the youth to continue the Novo Vizcayano tradition of service and dedication to our beloved Nueva Vizcaya. Despite the short period that you have worked with us, may you share your passion as you continue to serve your respective communities and families. This will not be the end, but the beginning of our partnership with you and all the Novo Vizcayano youth, as we all come together as one Nueva Vizcaya in making sure that no one is left behind", he added.
BM Dumlao is the Chairperson of the Committee on Education and Human Resources Development of the Sangguniang Panlalawigan of Nueva Vizcaya (SPNV). He supports all the initiatives of the PGNV for the betterment of the lives of each Novo Vizcayano youth as he believes that securing the future of our next generation leaders, nation builders, and public servants are the ultimate legacy that we can impart. #mvs (with reports from TJ Remorca)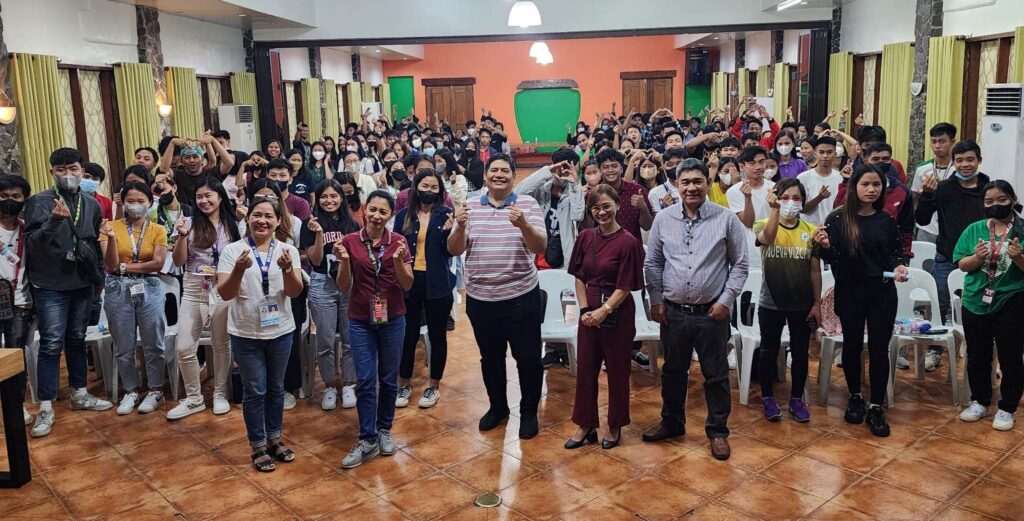 BM Patricio F. Dumlao, Jr. (center) and Acting PESD Manager Dolly Rose C. Minas pose with the SPES beneficiaries after the PGYE-BP payout held on February 10, 2023 at the Ammungan Hall, Capitol Compound.