The Provincial Government of Nueva Vizcaya (PGNV) through the Provincial Cooperative and Enterprise Development (PROCEDE) Office and in collaboration with the Japan Council of Local Authorities for International Relations (J.CLAIR) conducted a Capacity Training Program on One Town One Product (OTOP) development held on January 31, 2023 at the Nueva Vizcaya Livelihood and Pasalubong Center (NVLPC), Bayombong, Nueva Vizcaya.
Participants of this activity were from the academe, national offices, cooperative sector, and different PGNV offices who were equipped with new knowledge on the different topics discussed by the J.CLAIR's Japanese Specialist Mr. Asaki Shoichi which include Branding Equity and Strategy, Marketing and Branding Plan, and Branding and Certification System.
For the Branding Equity and Strategy, Mr. Shoichi emphasized on the best sales strategy which is the "Local Production for Local Consumption (Chisan-Chishou)". According to him, it is also necessary to build a collaborative system between producers and distributors. He added that if local people do not say "It's delicious!", it will not sell elsewhere, thus locals should taste it first.
With respect to Marketing and Branding Plan, Mr. Shoichi stressed on Segmentation, Targeting, and Positioning (STP), i.e., Sort out what kind of market you are aiming for, narrow down from the sorted market, and clearly identify the brand's position.
As per Branding and certification system, he reiterated on the significance of certifying brand items where a brand is simply a credit for being special. Also, for guarantee and authentication, it is important to know whether item can be trusted. Lastly, experiencing the quality that product is delicious, and service is good, deepens trust.
After the presentation, questions from the participants were entertained which were satisfactorily answered by Mr. Shoichi. Thereafter, tokens, which include different Nueva Vizcaya products, were awarded to the Japanese delegates which they delightedly accepted.
In closing, Ms. Juditte L. Asuncion, Provincial Cooperative Affairs Officer, thanked all the participants of the training for their indulgence in the activity, and J.CLAIR representatives for providing their expertise especially in the food processing industry of the province. Likewise, she reiterated on the importance of this activity because PROCEDE Office needs the cooperation of each office because they cannot do it alone, but it should be a convergence among the different offices of the PGNV. #mvs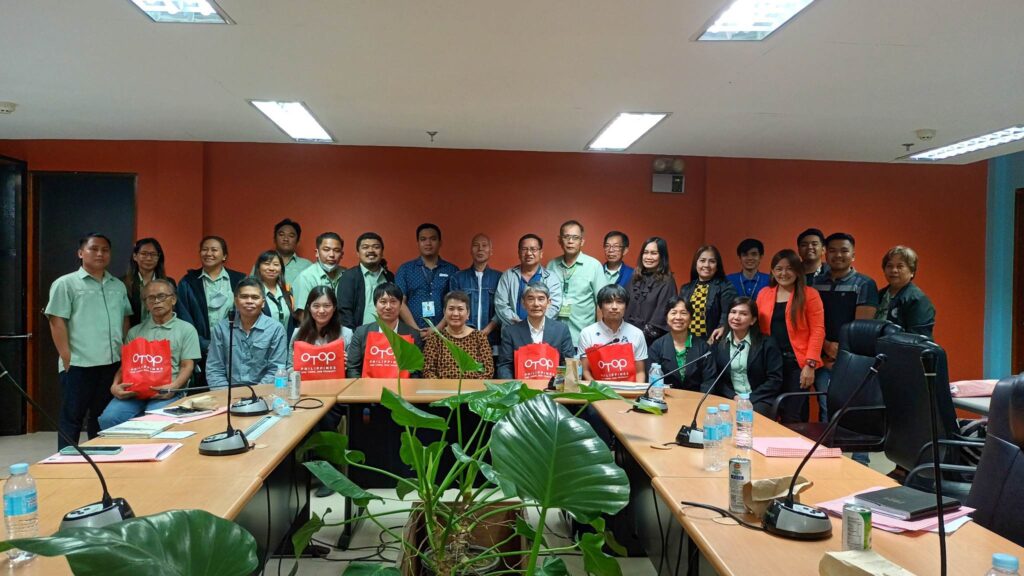 Group photo of participants and facilitators of the Capacity Training Program on OTOP development led by Ms. Juditte L. Asuncion (center, seated), held on January 31, 2023 at the NVLPC, Magsaysay, Bayombong, Nueva Vizcaya.