Lawyers affect our everyday lives in countless ways. They are involved in everything from buying a home, to writing a will, to prosecuting and defending criminals. They counsel, strategize, problem-solve, write, advocate, negotiate — the list is endless. Lawyers work just about everywhere — law firms, private business, government, public interest organizations, the judiciary, and academe.
One lawyer in Nueva Vizcaya is famed and venerated for his possession of wisdom, judgment, and experience. He is perhaps one of the most, if not the most experienced trial lawyer in the legal community today. His years in practice will tell us how long he has dealt with the intricacies of law.
Atty. Quirico L. Pilotin had a very humble beginning. He was born on March 25, 1931 at Taguiporo, Bantay, Ilocos Sur to spouses Miguel Pilotin and Margarita Valdez Lopez. He spent grades 1-3 at Vigan, Ilocos Sur. In 1940, their family migrated in Byombong, Nueva Vizcaya where he continued his studies, but was later interrupted due to World War II in 1941. After the country's liberation from the Japanese regime, he was able to continue his studies and graduated in elementary in 1945. In 1949, he graduated in high school at the Nueva Vizcaya High School. He finished a two-year course in Associate in Arts at the Saint Mary's College in 1952.
In 1953, he was employed in Manila as a secretary of a retired officer of the Philippine Constabulary where he was mistakenly identified as a lawyer because his looks, dealings, and actuations show that he was one. However, he did not stay long because he had to go back to Nueva Vizcaya. He later worked as an embalmer at Bambang, and as "kargador" at Santiago City, Isabela.
He studied law from 1954-1958 at the Philippine Law School in Legarda, Manila (known now as Lyceum of the Philippines University in Intramuros) while working as a typist at the ROTC office of the school.
He became a full-fledged lawyer on March 2, 1960 with Roll No. 14333. After taking his oath as a lawyer, he became a full- time practitioner. While his practice was proficient, high-valued, and lively, he had the heart of helping litigants. He gave free lectures to police officers at the Philippine Constabulary emphasizing the Miranda Doctrine which police officers frequently violate. He also lectured with Barangay officials with respect to their duties, powers, and responsibilities. He even gave legal assistance to indigenous peoples like the Various tribes of Kalinga where he acted as counsel for the Bodong Organization against the Susana Realty Corporation of the Madrigals for ejecting them in their lands.
For 62 long years in practice, he has a good professional standing, perhaps because he was not tempted by the voluptuous secretaries, nor was even caught by his roaring wife, or just because he preferred principle over money, or simply because he loves lawyering as a profession.
Except for the position of a Provincial Attorney of Nueva Vizcaya which he accepted in 1972 and held until 1991, he has shunned numerous offers for a more powerful and prestigious positions in the government because he believes that he could help people and society better and more effectively by practicing the noblest profession, and that is the law profession that is said to be the priesthood of justice where the courtroom is their playground which he enjoyed.
He is also the only lawyer who held the presidency of the Integrated Bar of the Philippines (IBP)- Nueva Vizcaya Chapter for two consecutive terms.
On December 3, 2022, the 94-year-old lawyer was an awardee of the "Dayaw ti Amianan" recognizing him as the oldest known Private Practitioner of the North during the IBP Northern Luzon Regional Convention held at the Isabela Convention Center, Cauayan City, Isabela. #mylene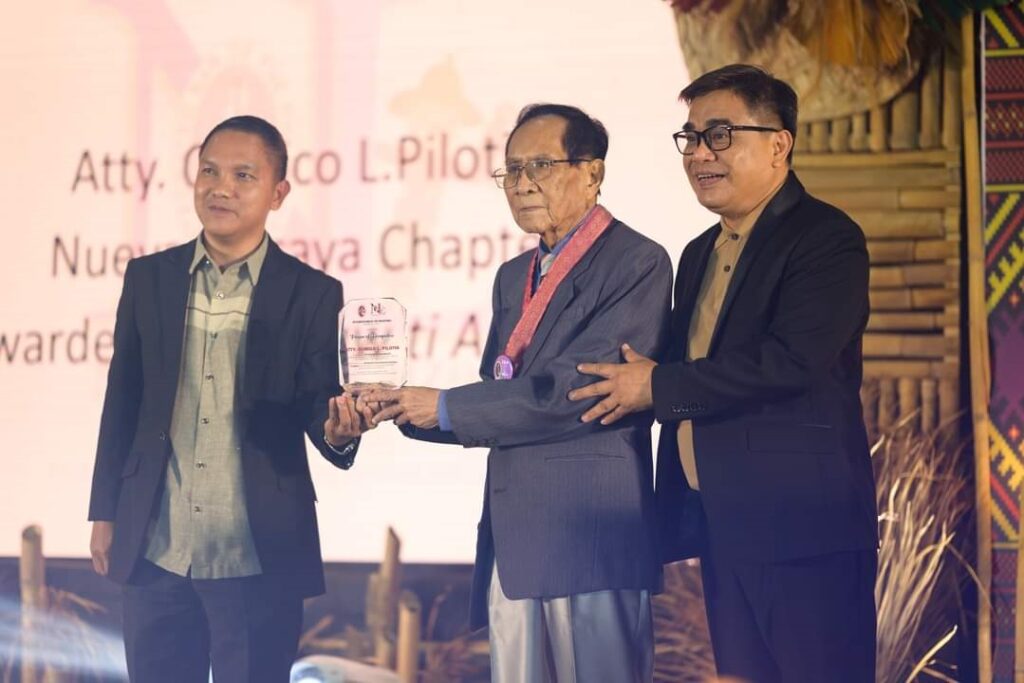 Atty. Quirico L. Pilotin receives a plaque of recognition during the IBP Northern Luzon Regional Convention held on December 3, 2022 at the Isabela Convention Center. With him are Atty. Voltaire B. Garcia, President, IBP Nueva Vizcaya and Deputy Governor for Cagayan Valley, and Atty. Lucky M. Damasen, Governor, IBP Northern Luzon.